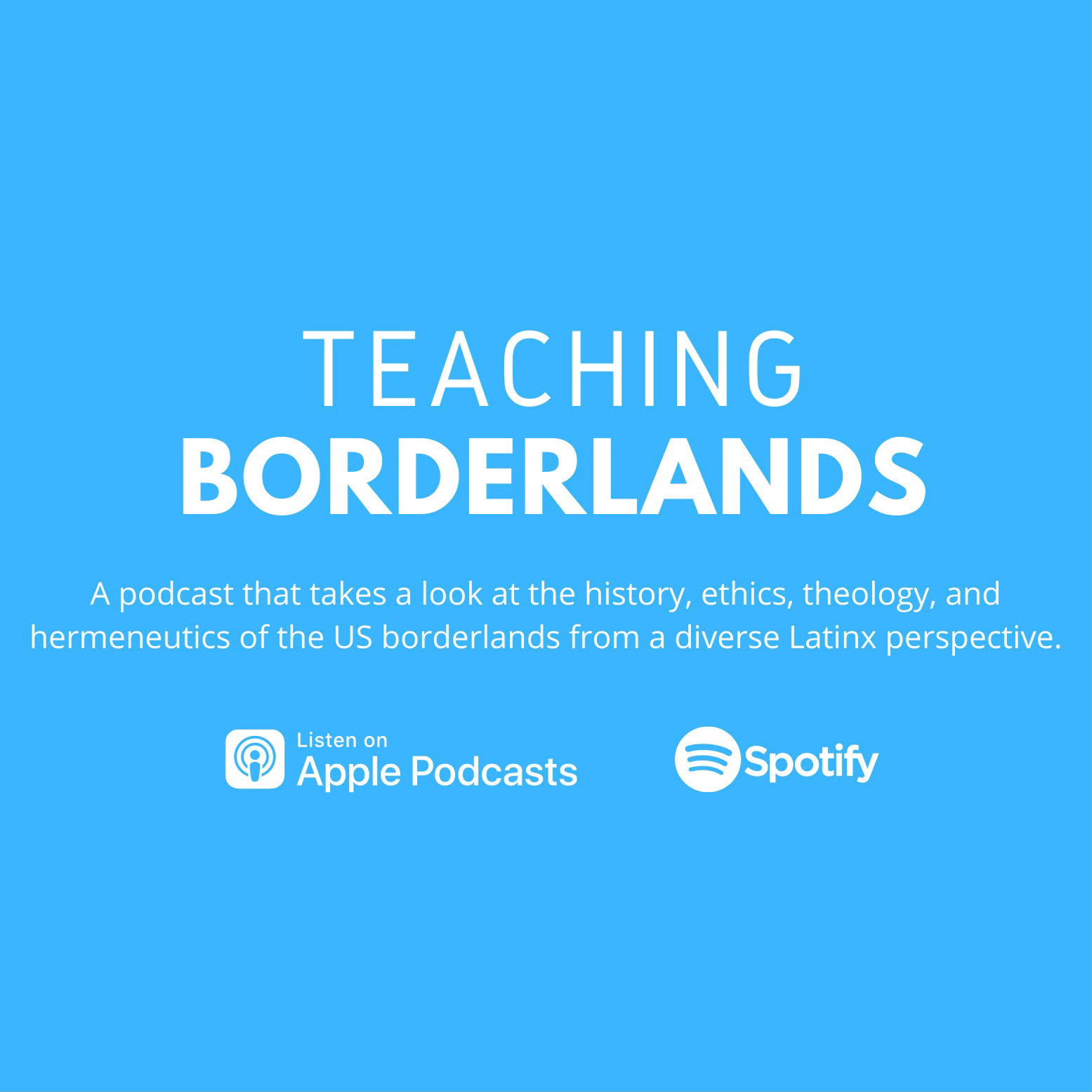 TEACHING BORDERLANDS PODCAST
Expanding the Latinx Vision of Borderlands at ATS Member Schools 
In current US society, the political discourse has directed the national gaze southward to the US borderlands—stretching from the Puerto Rican archipelago to the El Muro en la Playa in Tijuana, Mexico. The central concern is that much of this southbound discourse has led to increased racial stigmatization and criminalization of brown bodied Latinx people across this border-scape territory (which includes both sea and land). As tenured Latinx faculty in theological education, we are concerned that little is being offered at ATS member schools to expand their students' vision of the US's southern borderlands, particularly within the domains of course offerings, public lectures, library holdings, and faculty hires. This pedagogical and epistemological gap can inadvertently perpetuate abiding racial prejudices against the many Latinx people who migrate through or who are settled in the US borderlands. Hence, for this project, we aim to visit four ATS member schools across the United States to engage in strategically planned and programmatic conversations with faculty, administrators, and students about the history, ethics, theology, and hermeneutics of the US borderlands from a diverse Latinx perspective. The central goal is not only to offer a counter story of the borderlands but ultimately to foster a life-giving vision of Latinidad for each host school's educational ecology.
Team Members:

 Efraín Agosto (New York Theological Seminary), Gregory L. Cuéllar (Austin Presbyterian Theological Seminary), Teresa Delgado (Iona College), Eduardo C. Fernández (Jesuit School of Theology of Santa Clara University), Daisy L. Machado (Union Theological Seminary)
Episode 2: Dr. Daisy Machado
Daisy L. Machado serves as the Executive Director of the Hispanic Summer Program and Professor of American Religious History at Union Theological Seminary​​​​​​​

.
Dr. Machado, a native of Cuba who arrived in New York City with her parents when she was three years old,  is Professor of American Religious History at Union Theological Seminary in New York City. She also served as academic dean of Lexington Theological Seminary and Union Theological Seminary, the first Latina to hold this position in both institutions. Dr. Machado was also the first director of the Hispanic Theological Initiative when it opened its doors in 1996. Currently, she also serves as the director of the Hispanic Summer Program, a unique program of theological education founded in 1989. 
Dr. Machado has lectured in many seminaries and conferences both in the United States and abroad. She is the  author of several published works related to borderlands history and theology.
Her latest publication is Borderland Religion: Ambiguous Practices of Difference and Hope and anthology published in 2019 which she co-edited with Dr. Trygve Wyller (Norway) and Dr. Bryan Turner (Australia) containing essays by a group of international scholars​​​​​​​
.

In this anthology she also has an essay titled "Santa Muerte: A Transgressing Saint Transgresses Borders".  In addition, Dr. Machado has also authored other book chapters on the borderlands, among them:  the chapter "History and Latino Identity: Mapping A Past That Leads to Our Future" in the book The Wiley Blackwell Companion to Latino/a Theology;  "Borderlife and the Religious Imagination" in the anthology  Religion and Politics;  and "The Southern U.S. Border: Immigration, the Historical Imagination, and Globalization" in Rethinking Economic Globalization.  She is also co-editor of the volume, A Reader in Critical Latina Feminist Theology which contains her essay "The Unamed Woman: Justice, Feminists, and the Unamed Woman". Her first monograph on the issue of the borderlands was  Of Borders and Margins: Hispanic Disciples in Texas, 1888-1945.
Episode 1: Rev. Dr. Gregory Cuéllar
Gregory L. Cuéllar is the Associate Professor of Old Testament at Austin Presbyterian Theological Seminary. As a biblical scholar, Dr. Cuellar is interested in alternative ways of reading the biblical text, in particular those that are rooted in a larger contrapuntal discourse of liberation. He has written on topics related to the U.S. Mexico Borderlands, Latino/a immigration, race, and empire.  A major focal point in his research lies at intersections of religion, migratory aesthetics, borderlands and postcolonial trauma. He is currently researching the social, political, and ethical contours of religious services provided within state contracted family detention facilities. His two most recent books are, Resacralizing the Other at the US-Mexico Border for Routledge (2020) and , Empire, the British Museum, and the Making of the Biblical Scholar in the Nineteenth Century Archival Criticism (Palgrave, 2019). In terms of advocacy work, he is the co-founder of a refugee artwork project called, Arte de Lágrimas (Art of Tears): Refugee Artwork Project. This project is a traveling art exhibit and archive that aims to create greater public awareness of the lived migratory journeys of asylum-seeking children, youth, and adults.